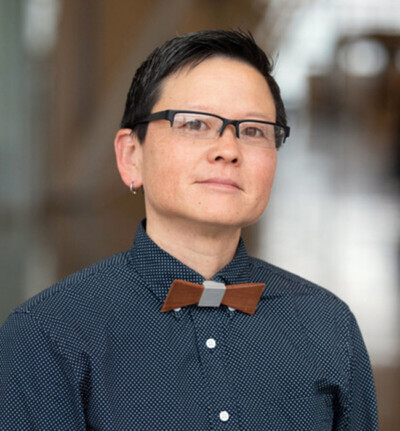 TT Takemoto is a queer Japanese American artist and scholar exploring Asian American history, sexuality, and identity. Their work delves into hidden dimensions of same-sex intimacy and trauma existing within Asian and Asian American archives. 
Takemoto interacts with found footage and archival materials through performance and labor-intensive processes of painting, lifting, and manipulating 16mm/35mm film emulsion using clear tape, razor blades, and nail polish. By engaging with tactile and sensory dimensions of queer histories, Takemoto conjures up immersive fantasies involving butch surgeons, femme fish fileting, and homoerotic breadmaking. Their films honor queer Asian Americans who lived, loved, and labored together during the prewar era and beyond. 
Takemoto has exhibited and performed at Asian Art Museum, de Young Museum, Catherine Clark Gallery, Chinese Culture Center, Oakland Museum of California, Peabody Essex Museum, SOMArts, SFMOMA, Vargas Museum (Philippines) and Blindspot Gallery (Hong Kong). They have received grants from Art Matters, ArtPlace, Fleishhacker Foundation, Lucas Artists Program, and San Francisco Arts Commission. 
Takemoto was awarded the Grand Jury Prize for Best Experimental Film at Slamdance Film Festival and Best Experimental Film Jury Award at Austin LGBTQ+ International Film Festival (aGLIFF). Their film screenings include Ann Arbor, Anthology Film Archive, BFI Flare (London), Documenta 15, MIX Milano, MIX Mexico, Marseille Underground Film Festival, Outfest, Queer Forever! (Hanoi), Rio Gay Film Festival, Toronto Reel Asian Film Festival, TranScreen (Amsterdam), and Xposed International Queer Film Festival (Berlin). 
Takemoto's writings appear in Afterimage, Asian Diasporic Visual Cultures and the Americas, Art Journal, Densho Encyclopedia, GLQ, Hyphen, Journal of Visual Culture, Millennium Film Journal, Performance Research, Radical Teacher, Theatre Survey, Women and Performance, and the anthologies Queering Asian American Art, Otherwise: Imagining Queer Feminist Art Histories, Saturation: Racial Matter, Institutional Limits, and the Excesses of Representation, and Thinking Through the Skin. 
From 2008-2023 Takemoto served on the board of the Queer Cultural Center, where they co-founded Queer Conversations on Culture and the Arts. Takemoto is Dean of Humanities and Sciences at California College of the Arts. They live and work in the San Francisco Bay Area.