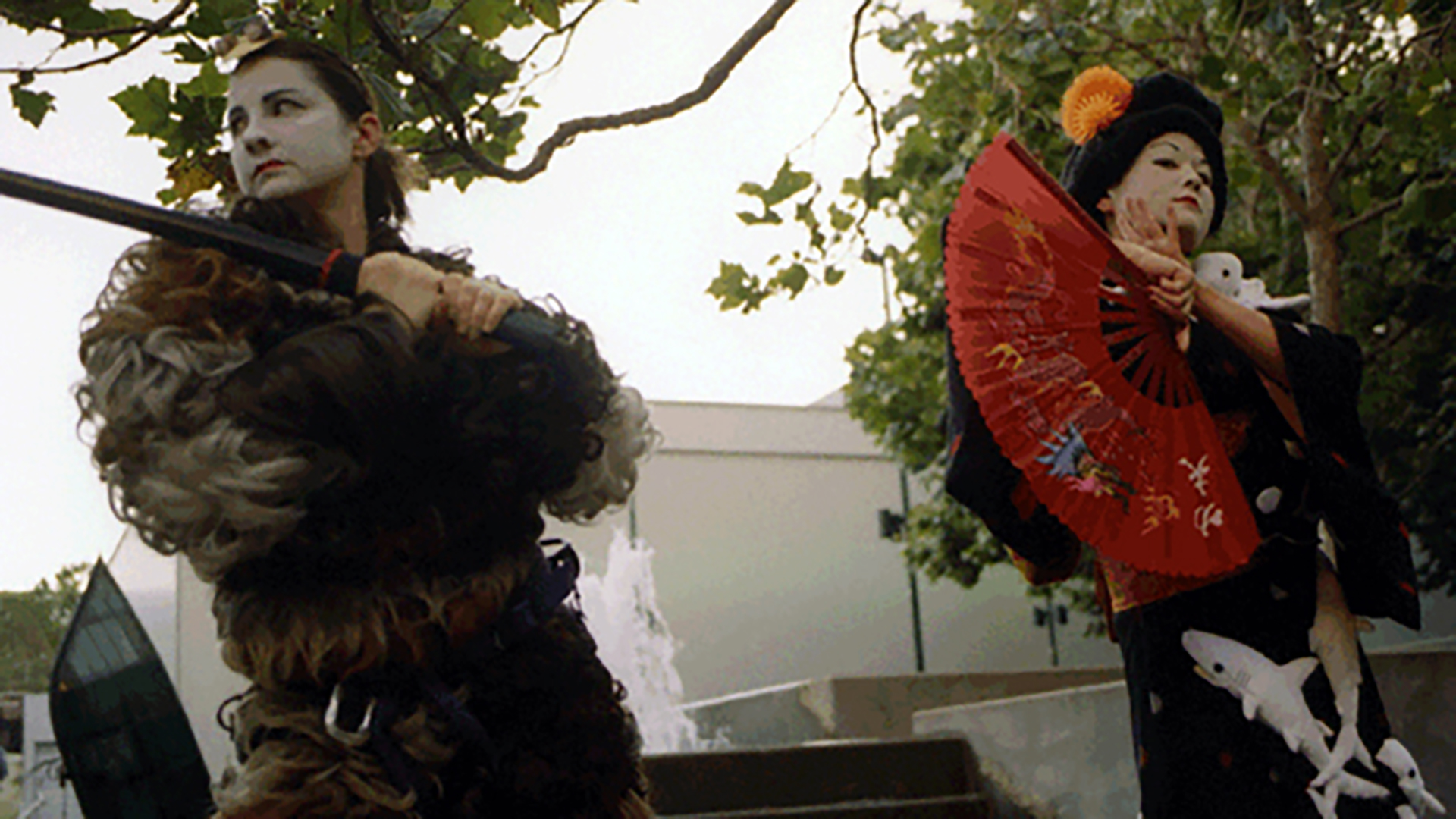 Drawing Complaint: Memoirs of Björk-Geisha 
TT Takemoto with Jennifer Parker
2006, unsolicited live performance at San Francisco Museum of Modern Art
2006, solo performances, The New Conservatory Theatre and CounterPulse
2006, single channel digital video, 3:45 minutes
Takemoto and Parker presented a guerrilla performance during the opening of the Matthew Barney: Drawing Restraint exhibition at the San Francisco Museum of Modern Art. This exhibition featured Barney and Björk as "occidental guests" on a Japanese whaling ship where they dress in elaborate fur kimonos, participate in tea ceremony, erotically slice each other's legs off, and transform into whales. In response, Takemoto (as 'Björk-Geisha") and Parker (as "Matthew-Whaler") offered unsolicited performances of fan dancing, lip synching, samurai whaling, and chopstick harakiri among crowds of confused viewers and gallery guards who couldn't determine whether they were part of the hired entertainment or not.
Performances
Bjork Night at Trannyshack, solo performance, The Stud, San Francisco, 2007;
Opening of Matthew Barney: Drawing Restraint, unsolicited performance with Jennifer Parker, San Francisco Museum of Modern Art, San Francisco,  2006;
Love, Sex, Death and Art, with Annie Sprinkle and Elizabeth Stephens, solo guest performance, The New Conservatory Theatre, San Francisco, 2006;
Exposed: Experiments in Love, Sex, Death and Art, with Annie Sprinkle and Elizabeth Stephens, solo guest performance, CounterPulse, 2006;
Exhibitions 
Appropriation or Appreciation, with Jennifer Parker, Art Lounge, Asian Art Museum, 2015;
Play: Process, Activism, Subversion, with Jennifer Parker, Fine Arts Gallery, San Francisco, 2015;
Time Lapse: Four Decades of Art, with Jennifer Parker, Sesnon Art Gallery, Santa Cruz, 2011;
An Autobiography of San Francisco, with Jennifer Parker, SF Camerawork, 2009;
Interruption of Hierarchies, with Jennifer Parker, Sesnon Art Gallery, Santa Cruz, 2008;
Wearable Art, with Jennifer Parker, Femina Potens Gallery, San Francisco, 2007;
Press / Publications
Tina Takemoto, "Queer Exhaustion, Speculation, Despair," Saturation: Racial Matter, Institutional Limits, and the Excesses of Representation, ed. C. Riley Snorton and Hentyle Yapp, (MIT Press, 2020), 105-114
Jan Christian Bernabe and Laura Kina, "Muscles, Mash Ups and Warning Shots–Queering Japanese American History: An Interview with Tina Takemoto," Queering Contemporary Asian American Art, ed. Laura Kina and Jan Christian Bernabe (Seattle: University of Washington Press, 2017), 220-226
Jennifer Gonzalez and Tina Takemoto, "Triple Threat: Queer Feminist of Color Performance Art," Otherwise: Imagining Queer Feminist Art Histories, ed. Amelia Jones and Erin Silver (Manchester: Manchester University Press, 2016), 294-303
Tina Takemoto, "Memoirs of Bjork-Geisha," Reading Contemporary Performance: Theatricality Across Genres, ed. Meiling Cheng and Gabrielle H. Cody (Routledge, 2016), 115-117
Tina Takemoto, "Drawing Complaint: Orientalism, Disidentification, Performance," Asian Diasporic Visual Cultures and the Americas 1 (2015), 84-107